While so-called experts claim that the Tutsi's genocide has not been prepared before April 6, 1994, one has to listen to Jean Carbonare who, returning from Rwanda, warned the televiewers on January 28, 1993 about the massacres of tutsi men and about the support of the murderers by France.
Rwanda: autopsy of a genocide
La marche du siecle (Folder : States of emergency) - France 3
September 21, 1994
As the genocide against the Tutsi has barely ended, this report shows that it is not due to an immemorial ethnic hatred but that it was programmed by the Habyarimana regime and that France has supported and trained militarily the killers
Jean Chatain
Night and fog over Rwanda
Jean Chatain's articles for the newspaper L'Humanité during the Tutsi's genocide in 1994
Izuba editions, January 2020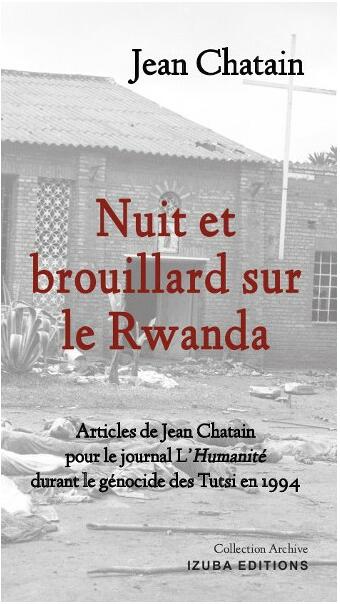 Monique Mas
Paris-Kigali 1990-1994 - Colonial glasses, saber politics and humanitarian anointing for a genocide in Africa
Éditions L'Harmattan, 1999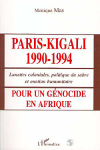 La France au cœur du génocide des Tutsi by Jacques Morel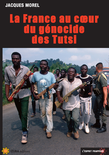 Version v2.29, July 28, 2020, 65 Megs, 1600 pages
Hubert Védrine's confession at Defence and Force Armies Commission, National Assembly, April 16, 2014
1933 Pagès, Albert
Au Ruanda, sur les bords du lac Kivu (Congo belge). Un royaume hamite au centre de l'Afrique. T. I
In « 
A hamite kingdom in central Africa
 », Father Pagès, influenced by De Gobineau, writes the history of Rwanda in terms of races. « 
The word Hamites is used to identify the Batutsi. The community of origin of the Hamites with the Semites (Egyptians or Abyssinians) seems out of dispute
 ».
24 mars 1957 Kayibanda, Grégoire
Note sur l'aspect social du problème racial indigène au Ruanda (Le manifeste des Bahutu)
« The departure of the European could reduce [the Muhutu] in a servitude worse than the first ».
11 octobre 1990 Lanxade, Jacques
Note à l'attention de Monsieur le Président de la République. Objet : RWANDA - Situation
France is fighting against «
Tutsi forces
».
Décembre 1990
Kangura No. 6 : L'Appel à la conscience des Bahutu, suivi des Dix Commandements
The Call to the conscience of the Bahutu, followed by the Ten Commandments of Muhutu. « 
Bahutu must stop pitying Batutsi
 »
21 septembre 1992 Nsabimana, Deogratias
Définition et identification de l'ENI
« L'ennemi principal est le Tutsi [...] qui n'a jamais reconnu et ne reconnaît pas encore les réalités de la Révolution Sociale de 1959 et qui veut reconquérir le pouvoir ».
11 mars 1993 Martres, Georges
TD Kigali 11 mars 1993 - Position du CDR sur les accords de Dar es-Salaam
The French ambassador shares the point of view of the Coalition for the Defense of the Republic (CDR) which judges that President Habyarimana is «
worn out
» and «
finally failed everything
».
May 2, 1994 Keating, Colin
Security Council : Rwanda
Rwanda and France sought to amend opening paras to remove assertion that Government forces were responsible for the bulk of the killings.
6 mai 1994 Quesnot, Christian
Note à l'attention de Monsieur le Président de la République
In the middle of the genocide, while the RPF hunts the killers of eastern Rwanda, General Quesnot is worried about the creation of a « 
Tutsiland
 » with the help of Anglo-Saxons and writes to president Mitterrand : « 
We have the means and the relays of an indirect strategy that could restore a certain balance
 ».
27 juin 1994 Smith, Stephen
Dialogue difficile avec les massacreurs
Colonel Rosier, commander of the special forces, refused to disarm militiamen, saying :
The militiamen are waging war. For the sake of neutrality, we do not have to intervene. Otherwise, tomorrow, if there is any rebel infiltration, we will be blamed.